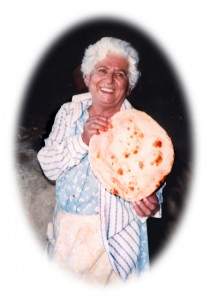 My Inspiration My Mother
High up in the mountains, not far from the Cedars of Lebanon, the land of Khalil Gebran, is a small village called Akabet Hairouna
This is where Aleece was taught by her mother and grandmother the tradition of making the pita bread. She carried this tradition to East Peoria, Illinois.
Aleece's Pita Chips is a guarded family recipe, a tradition in excellence that provides the best in quality. Our commitment to maintaining this quality and using only all natural ingredients makes Aleece's Pita Chips the best in the nation.
We promise you the best quality. Our reputation depends on it.
Alice T. Anthony is a serial entrepreneur. Aleece's Pita Chips is the fourth business she has started and operated. The former restaurant owner, professionally trained chef and party-planner is an expert in understanding what food items appeal to the public. With Aleece's, she has transformed a proprietary family recipe into a successful line of pita chips in multiple flavors and has developed a line of deliciously compatible Cheese and Hummus Spreads.
Member of the East Peoria Planning and Zoning Commission and is on Saint Sharbel's Church Board. Served on the Board of Directors for the local Women In Management (WIM) chapter, and has served in many different capacities in NAWBO (National Association of Women Business Owners, Central IL Chapter). Served as a director on the Helping Hands Foundation at the East Peoria, Fon Du Lac Park District and is a member of the Peoria Area Chamber of Commerce. (These represent just a few of many community involvements.)
Competitive Comparison
To differentiate ourselves from all of the others, we stress quality and authenticity of the ingredients, and the heritage of the family recipe.
We sell more than a bag of pita chips. We sell high quality ingredients, carefully put together in a masterful blend that can't be matched in taste or true authenticity.
These are simple products that must be presented in a way that encourages the consumer to just give us a chance. Once they try our product, we will have a long-term relationship with them.
As in similar food items, we can charge a premium for what we supply. The market has shown it will buy our product over more readily known names because of the richness and authentic taste of our pita chips and cheese spread.